The fashion and accessories industry experienced great uncertainty during the height of the pandemic, which led to a loss of 7% of the companies in the sector in 2020, according to the MGFI (McKinsey Global Fashion Index). In 2022, the industry found its footing again, which presented many opportunities, but also challenges, such as the digitization of sales, influencer marketing, and new customer expectations around products and values. However, the challenge that will have the greatest impact on the fashion industry in the coming years is the customer journey.
"One of the biggest challenges facing fashion houses today is meeting the rising demands of digitally native customers at each point in the customer journey. Customers expect you to know what they want and deliver personalized experiences tailored to them."
Fashion Retail CX: Closing the Experience Gap in Fashion, by The Future of Customer Engagement and Relations
The new customer journey in fashion
E-commerce can't be an after thought. Forrester predicts eCommerce will account for 36% of global fashion retail sales by 2022.
The physical/digital (sometimes referred to as phygital) hybrid customer journey hasn't yet totally satisfied consumers. 75% of customers have great expectations when it comes to online shopping experiences, but only 63% think that brands respond to them.
Customer engagement in fashion thanks to conversational commerce
To bridge the gap, more and more brands have opted for a conversational strategy. It allows them to fulfill expectations of transparency and dialogue, while truly listening to what customers are saying.
With live shopping, the fashion industry is leveraging an immersive and interactive customer experience
Brands must work to maximize the customer experience at every step. Live shopping is the most immersive and interactive digital sales channel that every company should have in their strategy. With a single live event, conversion rates can be up to 3x higher than those on a classic e-commerce site.
The new customer journey in fashion retail
Online sales are constantly growing in fashion retail
The e-commerce revolution is extremely visible in this sector. Forrester predicts that 36% of global sales in fashion retail will be made online in 2022, compared to 27% in 2018. Market penetration in online fashion is about twice that of global retail sales. The firm's forecast shows that e-commerce will represent 27% of fashion retail sales this year, versus 15% of total retail sales in 2018.
For customers, there's no looking back. This digitization corresponds to their nomadic technology use. However, a gap exists between reality and their expectations of online shopping. Brands don't deliver an experience that meets their needs. 75% of consumers expect a lot from online shopping experiences, but only 63% think brands are providing it.
Digital and physical shopping experiences go hand in hand
Although more consumers are buying clothes and accessories on the internet, retailers' storefronts aren't obsolete. Customer journeys are no longer linear. Consumers have become accustomed to combining online and in-store experiences when buying something.
The phygital trend has forced physical points of contact to reconsider their goals. A Forrester study showed that 40% of connected consumers like shopping in stores a lot less today than they did before the pandemic, however another 40% say they don't rule out going to the store. Why? They cite frustration during online shopping as a reason for turning to the physical store.
These surveys reveal two key priorities for fashion brands and retailers: Improve the digital experience and reinvent the physical experience.
Fashion consumer engagement thanks to conversations
To limit customer frustration during online shopping and buying as much as possible, while enriching their digital experience, brands in the fashion and accessories industry are investing in conversational commerce.
A more transparent approach is expected from the fashion industry
The world of fashion has been experiencing a digital transformation, which comes with its share of challenges. Easy access to a wealth of information has brought about change in customer expectations. More and more, they expect a relationship built on trust with their favorite brands and place emphasis on transparency.
According to a McKinsey survey, 67% of European consumers consider the use of sustainable materials an important factor in their purchase decisions.
63% think the promotion of sustainability by a brand is an important factor in their purchases.
This need for transparency requires more communications on commitment, not just on brand and retailer websites, but also in dialogue with customers via messaging.
Fashion retail is listening to what customers have to say
Messaging is a practice that has become totally integrated into our daily lives, as we exchange messages with our loved ones. It has also become an integral part of the fashion sector. This new fluid and personalized mode of communication has put the customer at the center of the brand relationship, compared to more traditional and frustrating channels like telephone and email.
For brands and retailers, in addition to improving the customer experience, the objectives of a conversational strategy that includes messaging are:
Increase Direct to Consumer (D2C) sales
Due to the value of data collected from customers, brands are opting for more direct sales to consumers, either online or in their physical store, alongside some major accounts.
The State of Fashion 2020 report, McKinsey
Develop a web-to-store strategy
Online conversations establish a relationship of trust, build loyalty, and encourage consumers to maintain a multidimensional relationship with the brand. A successful online experience will multiply contacts, including those in stores.
Today's technology makes it possible to combine human touch points and artificial intelligence to hear what customers are saying thanks to AI chatbots, a kind of balance known as augmented Intelligence. In basic terms, these respondents guide buyers through the stages of their journey, whether they're considering buying a piece of clothing, looking for information about their purchases, or asking a question about something they bought.
The role of conversations in managing returns in the fashion sector
In the fashion world, brands are faced with the challenge of returns. Changes in the way consumers interact with brands and make purchasing decisions lead to a greater volume of products being returned to the seller. The growth of online sales channels and the practice of  facilitated returns (which are often free for the customer) have changed the nature of purchasing. Orders are thought of more as a risk-free product trial than a final purchase. According to McKinsey, this phenomenon is particularly prevalent in the categories of women's dresses and shoes.
This high volume of returns clearly comes at a price. Brands lose money on their shipping and return costs and see their turnover drop, not to mention the fact that a disappointing experience may lead to the permanent loss of a customer.
Yet, this problem is rarely addressed by the fashion sector due to its complexity. McKinsey cites four obstacles that prevent companies from solving this problem:
Consumer-friendly retailers feel obliged to accept a high level of returns
Efficiency in reverse logistics is difficult to achieve
It's hard to assign one particular department to fix this problem, given the multifaceted nature of returns
A lack of data prevents companies from truly understanding and addressing the root causes
The ability of brands and retailers to be immediately available and provide personalized responses to customers appears to be absolutely necessary and even addresses the root causes of returns. Advice is essential to providing products that suit consumers, even more so online than in stores. Paradoxically, online shoppers are often left alone on websites.
However, advice on sizes, colors, and styles is available both in store and online thanks to messaging. The conversation can go beyond real-time chat exchanges with a bot, advisor, or expert on a brand's website to include video calling. It's now possible for in-store sales associates to start video calls with a customer who needs advice online, further highlighting the phygitalisation of retail. This means of communication breaks down the digital barrier between consumers and brands and gives a new dimension to online shopping. It can be very useful for showing colors under a different light, displaying how various items go together, or giving someone a more nuanced description of fit.
Conversational fashion and accessories brands are the industry leaders in customer experience because they're able to assist customers throughout their journey on as many channels as necessary. In this race for customer experience, loyalty, innovation and the "wow" effect is essential. Fashion is one of the most advanced sectors in conversational commerce, offering the possibility of live purchasing more often.
Retail fashion is moving towards an immersive and interactive customer experience with live shopping
You cannot escape live commerce or live shopping in the fashion sector. Having been propelled by lockdowns and the need for brands to quickly activate new sales channels, these demonstrations of products and services, broadcast live on social networks and other dedicated platforms, are as much entertainment as they are e-commerce. But make no mistake about it—this global trend will continue to gain momentum in the fashion sector. Brands that have taken the plunge have reported conversion rates of close to 30%, which is up to 10x higher than traditional e-commerce.
In order to document and guide companies in all sectors in their strategy, we recently published a whitepaper: The Guide to Live Shopping. You'll find explanations on live commerce and solid advice for setting up live events, as well as examples of live streaming shopping for brands.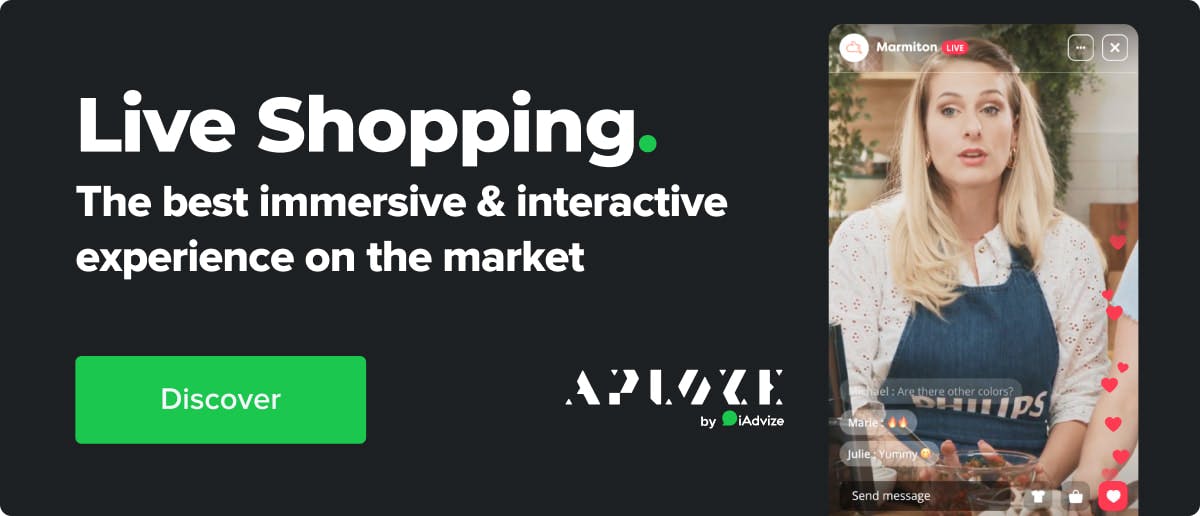 Live shopping & its influence on fashion e-commerce
In many respects, live shopping is continuing on the path laid out by the fashion industry's collaboration with influencers. Live events are announced and likely broadcast on social networks. In fact, they're typically led by influential figures in these areas, also known as Key Opinion Leaders (KOL).
Influencer marketing is heavily linked to the fashion industry and has become increasingly important in recent years. Like any digital phenomenon, 2020 represented both a turning point and an acceleration.
What's in it for these intermediaries between brands and customers? A more authentic relationship based on common interests and aspirations. The role communities play around these personalities shouldn't be overlooked. A loyal community relies on the advice of who they follow, and this is all the more true for the next generation of consumers. So much so that, as we explained in the article on building an audience for live shopping, fashion and accessories brands should partner up with influencers who share their objectives for live sessions.
Aside from the obvious link between influencer marketing and fashion, live shopping can serve as a new service from brands and retailers for customers with continually high expectations of customer experience.
A new experience that meets the needs of fashion enthusiasts
Experience must be central to the concerns of the marketing, e-commerce, and customer service departments at major fashion brands. It has become increasingly valuable in the eyes of consumers in recent years. 84% say that the experience provided by a company is just as important as the products and services. 66% of consumers are even willing to pay more for an enhanced experience.
The fashion industry, which is led by luxury, understands this well. Despite the effects of the pandemic, it has surpassed itself by breaking down the barriers of fashion shows reserved for the elite and offering new experiences with a single click. This new generation of shows has had over 100 million views because they're accessible online, both live and on demand, like the live broadcast of the 2021 Dior Men show in Beijing.
Digital is not an alternative. It's an addition, offering a new form of expression for houses of fashion.
Serge Carreira, Head of the Emerging Brands Initiative at the Fédération de la Haute Couture de la Mode
On their level, with tools sometimes as accessible as smartphones, fashion brands and retailers can draw inspiration from the major players in the fashion industry by launching live sessions with an appealing ROI. The immersive and interactive quality of live shopping allows consumers to discover and see products from a new detailed point of view (we recommend 30-45 minute live sessions), while being entertained. It's a win-win combination.
An example of live shopping in the fashion and accessories sector
Here's an example of a fashion brand that launched live shopping as their new digital sales channel in 2021.
This live event was produced using the Aploze by iAdvize platform, a live, interactive, and immersive solution that boosts online sales with a skillfully mastered experience from A to Z.
Conversational benchmark of the fashion industry: key figures
Let's dive into the key figures and numbers of a conversational strategy applied to the fashion industry.